Tradition and Experience
Constuction of our hotel has started in 2012 and has taken action in early 2013.You will see the equipment and the quality from lobby to the rooms in our hotel which is constructed according to the latest regulations and standarts.
 Hotel facilities are more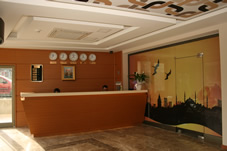 • 24-hour front desk
• 2 elevators
• Vrv central air system
• Meeting room for 50 people
• Generator
• Lightning rod
• Outdoor and indoor garage
• Cafeteria
• 100-seat restaurant
• Room service
• Breakfast buffet
• Transfer services
• Laundry service
• Car rental services and much more.
GRAND HOTEL AVCILAR IN INTERNET
@GrandHotelAvclr tarafından gönderilen tweetler

Grand Hotel Avcilar: Home Page
Grand Hotel Avcilar is located very close to Istanbul Ataturk Airport and is 10
minutes away from Tuyap and Cnr Expo Exhibition centres.
Grand Hotel Avcilar, Avcılar, İstanbul. 970 likes · 17 talking about this. TEL:0(212)
694 99 00 / İSTANBUL AVCILAR E 5 YANYOL NO: 66 DA BULUNMAKTADIR.